Yoga-Mojo ~
Loretta Jo
Dedicated to the practice of yoga both on and off the mat, Loretta Jo has been practicing and guiding students for almost two decades. She created Yoga-Mojo and the Yoga-Mojo Studio to support all students and teachers on their unique yoga journey.
In February, 2022, Loretta Jo founded Cary Yoga Collective (CYC) and partnered with Yoga Garden of Apex, to create, a boutique studio located in Lochmere Pavilion in Cary, NC.
Practice with Loretta Jo
at Cary Yoga Collective
COME EXPERIENCE THE FREEDOM OF EXPLORING SELF AND FINDING THE MAGIC WITHIN.
Yoga-Mojo classes focus on breath & mindfulness — to establish a mind-body-heart connection.
---
New Student Specials at CYC!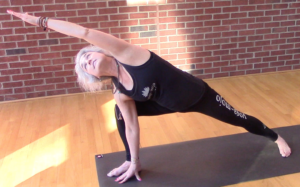 SAVE 20% off MEMBERSHIPS & CLASS PASSES WITH PROMO CODE "SUMMER20"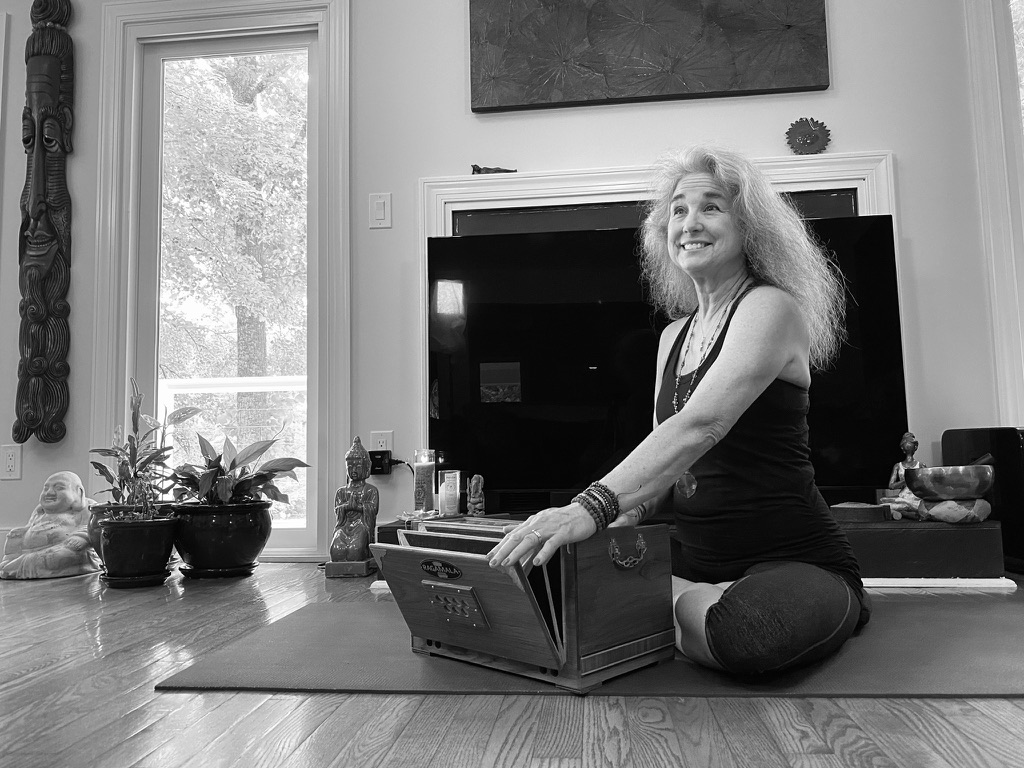 Student Reflections
Loretta Jo was so very welcoming and encouraging. The students were also very welcoming. The environment was kind and calm. The practice was exactly as I expected based on the class description. It was nice to be led by an authentic, caring instructor.
Yoga-Mojo Updates & Special Events
with Loretta Jo
---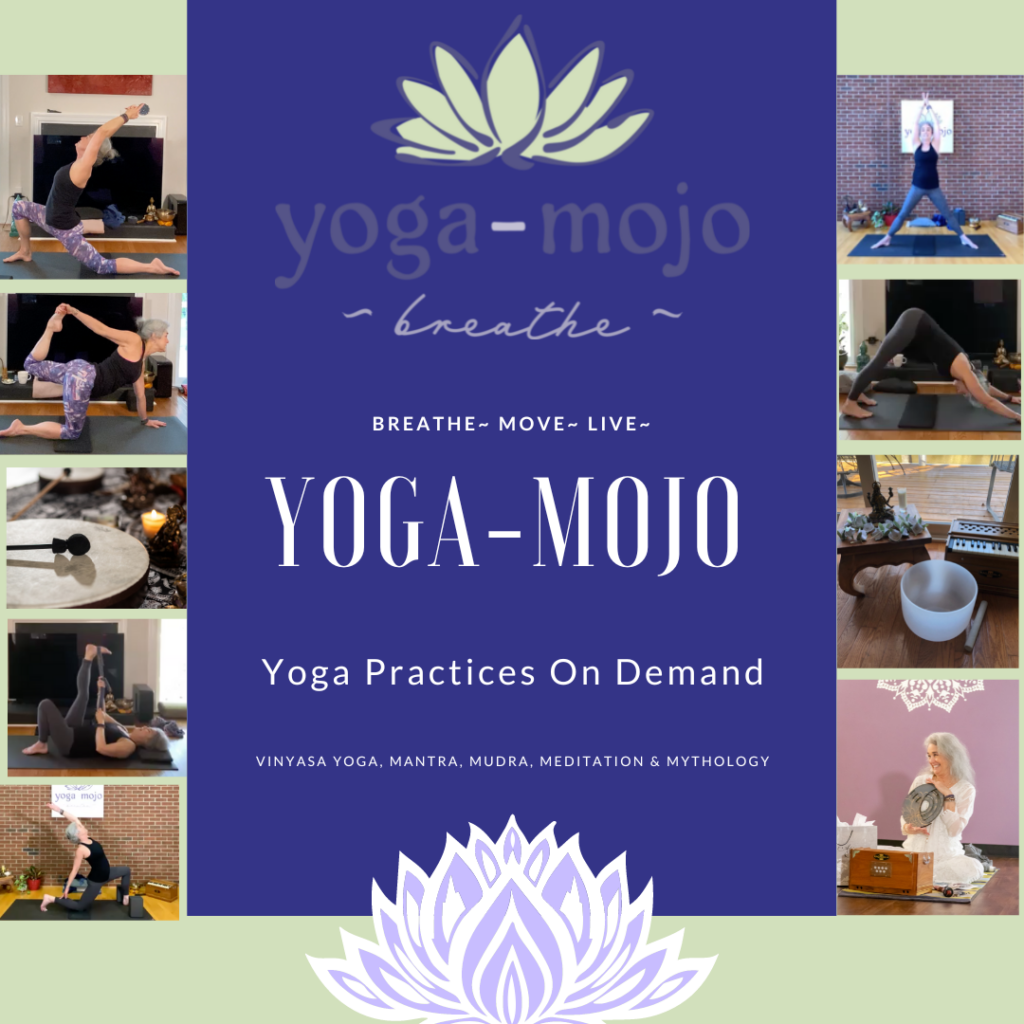 YOGA-MOJO ONLINE
We love being able to bring the practice of yoga to you virtually via online Live-Stream practices via Vimeo and include Loretta Jo's recordings of live practices, workshops, yoga mythology and more.
Select the 'Practice Online' button below to be taken to the Yoga-Mojo Online available via VIMEO. Find a class you've loved or try a new class. Additional content added weekly~
Or select the 'Learn More' button to learn more and to access a Yoga-Mojo class here on Yoga-Mojo~
WEEKEND WORKSHOPS
Check back soon as I'll be adding favorite workshops and NEW workshops to the schedule soon!!
Happy Summer 💜☀️🌼
---
Invite Loretta Jo to your studio! Many workshops can be covered in a weekend or multiple 3-hour workshops can make the weekend even more special!
Mantras, Mudras and Mythology
Maturing on the Mat: Teaching Yoga to Seniors
Art of Sequencing
Chakras — Awakening with Breath, Body/Movement, Mind and Mantra
YOGA-MOJO'S
YOGA TEACHER TRAINING RYT300|500
See below / CLICK HERE for more information
Schedule a call with Loretta Jo to learn more~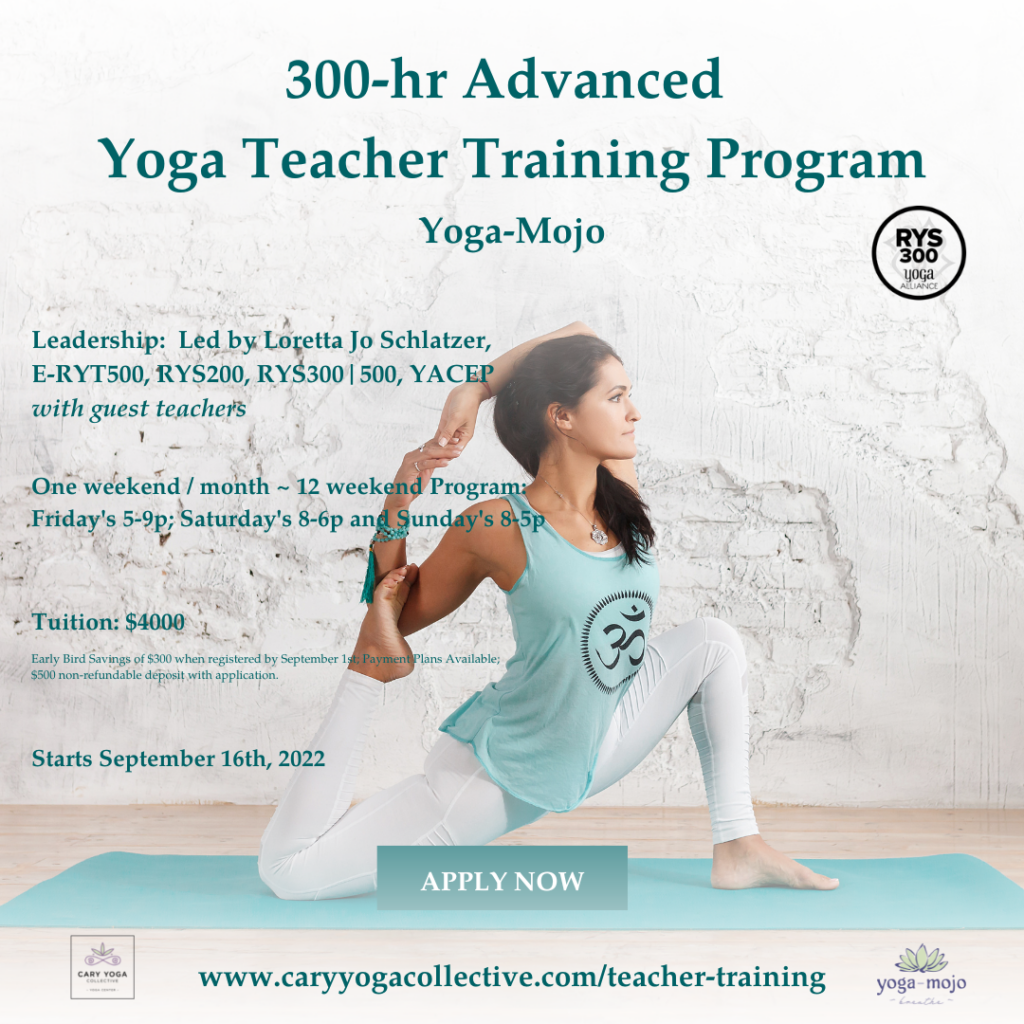 Advance your teaching ~ Advance your practice
This 300-hour advanced program has been designed to guide students through a deep and expansive journey of the Mind, Body, Spirit & Breath ~ An advanced level yoga training that offers asana, philosophy, research, anatomy, self-contemplation, advanced teaching skills, mindful and purposeful movement practices, mythology and more to help you inspire and be inspired~
We invite RYT-200 students from any traditions and schools to join Yoga-Mojo's Advanced Yoga Teacher Training & Studies Program (YMYTT300).
Combined with your 200-hour certification, you'll receive RYT 500 (Registered Yoga Teacher) status with Yoga Alliance® upon successful completion.
YMYTT 300-hour Advanced Yoga Teacher Training & Studies Program is a creative program designed for all Yoga Teachers. A life-changing immersion in the study of Yoga on many levels:  Physical, Psychological, Emotional and Spiritual.  You'll dive deeply into the practice of yoga~ 
Designed and led by Loretta Jo, E-RYT500, YACEP, RYS200 & RYS300, YMYTT 300-hour Advanced Yoga Training brings together guest teachers in asana, pranayama, Sanskrit, Philosophy, anatomy, yoga of sound and more~ A high-caliber program designed for all RYT200 practitioners/teachers with a desire to refine their teaching – or deepen their personal practice.
YMYTT300 provides time to revisit and study the art of yoga. The art of teaching asana, pranayama, mantra, and meditation. With a focus on Vinyasa, you'll be immersed learning mantras, mudras and mythology and how best to incorporate your knowledge and your voice into your teaching/practice.
YMYTT's path of study provides teachers an opportunity to develop his/her knowledge and ability in many areas including:
Yoga-Mojo believes in providing students opportunities to learn from various perspectives which provides each student an opportunity to evolve and embrace the teachings in a way that feels best for them.
WHAT MAKES YMYTT 300-hour UNIQUE?
Meeting for 12 weekends, students will immerse themselves in both the fundamental concepts as well as advanced concepts of the practice and teaching of yoga.  In addition, students may select an elective workshop specific to their course of study (approved by YMYTT300 Director) that may be taken during the program.  YMYTT300 includes mini-workshops and intensives with opportunities to assist teachers in classes as well as be mentored in projects assigned throughout the training. 
Note: The study, practice, and teaching required to graduate are designed to take 12 months of study. This is a long-term commitment that provides each student the opportunity to practice and learn and teach new skills and knowledge over time. This also provides each student a means for being engaged and fully supported as a member of a wonderful community of fellow students / teachers.
YMYTT's 300-hour Advanced Teacher Training & Studies Program is registered with Yoga Alliance® and exceeds Yoga Alliance guidelines regarding hourly requirements in each study category.
Be inspired – and inspire… Over the course of the program, you'll collaborate with a supportive community of like-minded students on a shared yet unique journey of discovery~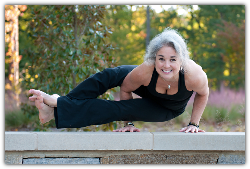 Yoga-Mojo is an authentic Vinyasa practice that is a blend of various styles and methods incorporating breath work (pranayama), asana (poses), meditation (dhyana), concentration (dharana) and more. A practice that is designed to let students explore their bodies & their minds and to move effortlessly with grace, pose-to-pose and breath-by-breath. Join me for practice on the mat with mantras, mudras and mythology~
Breathe~ Move~ Live~
~Loretta Jo